PRP for Hair Loss

in Cincinnati
Despite so many medical advances in other fields, there is still not a definitive way to fight hair loss. The majority of men deal with hair loss issues at some point in their life, but women also struggle to keep their hair as they age.
Platelet-Rich Plasma is one treatment for hair loss that is gaining popularity. Known as PRP for short, these injections work for medical issues such as tendinitis, oral surgery, sports injuries and more. Now, people are relying on PRP treatment to help regrow hair.
How the regenerative process with PRP for hair works
What makes PRP work? PRP is also known as autologous conditioned plasma. It is a concentrate of platelet-rich plasma protein. The red blood cells are removed from the patient's blood to create the plasma, which is then injected into targeted areas of the body.
Platelets have several healing growth factors in them. They encourage tissues to repair, build up, and multiply at a fast rate.
This treatment, when used on the scalp, helps to thicken existing hair, and even stimulate regrowth. Treatments can reverse years of thinning in some cases. It also helps to put an end to hair falling out, which is why we encourage people to start their treatments as early as possible once hair loss is noticed.
This is a completely different approach to hair loss treatment than other alternatives. Regenerative treatments assist in coordinating the patient's own body to heal and repair the damaged cells, which stimulate hair growth.
How many treatments does an average person need?
We recommend each patient receives four initial treatments to see true results. Each treatment should be about a month apart, allowing the body to fully recover and get the most out of each of those individual treatments. After four months, results should be noticeable for patients.
After the initial set of treatments, it's recommended to get PRP every six months after for maintenance purposes. Since PRP is a treatment and not a cure, the genetic condition will continue in most hair loss cases. That's why regular maintenance will allow people to see continued improvement. Without it, the prior results will start to gradually fade over time.
How long does a normal treatment session last?
Plan for about an hour with each session, although it might take slightly less than that. The PRP collection process takes anywhere from 10 to 15 minutes. After that, we must inject the PRP, but that only takes a few minutes. Paperwork, discussions, recovery and more all factors to consider.
After a few treatments, some can be in and out in 30 minutes or less. It's very simple to schedule a monthly appointment, and we offer convenient hours to fit into even the busiest schedules.
Is there much pain with PRP for hair?
During each procedure, every patient will receive injections directly into the scalp. Most people feel some mild discomfort during and after their first treatment, as it is brand new to them.
Those prone to headaches should try to get a good amount of rest after the first treatment. It's perfectly fine to take over-the-counter pain medication to help with the discomfort if it lingers into the night or the next morning.
Other than that, there are no side effects connected to PRP treatments. With more scheduled treatments, the majority of people can return to their normal schedules without any downtime.
PRP costs compared to alternatives
PRP treatment for hair is one of the most inexpensive, effective hair loss treatments out there right now.
Hair transplants can cost tens of thousands of dollars over time to see results. It also includes more downtime, and up to a year to see results.
Medications and creams might be cheaper at first, but results are harder to come by when compared to PRP. A lot of people will end up using a combination of medication, creams and PRP treatments to help the re-growth process, but PRP will have the greatest overall impact.
The cost of PRP for hair loss treatments at Renew Medical Centers are extremely reasonable compared to the alternatives.
Are there more advanced treatment options? Yes.
When combined with Platelet-Rich Plasma (PRP), certain regenerative treatment options provide a significantly greater amount of growth factors to encourage hair growth.
We do provide more advanced options for patients when requested and when appropriate.
Next steps
Have any additional questions about PRP treatment for hair loss? We are happy to answer any questions a potential patient might have before starting with the treatments.
The first step in determining if you are a candidate for this treatment is to schedule a patient consultation with our medical team.
Give us a call at 513-561-7836 to schedule your consultation or to ask any questions you have.
PRP for Hair Loss

Patient

Testimonial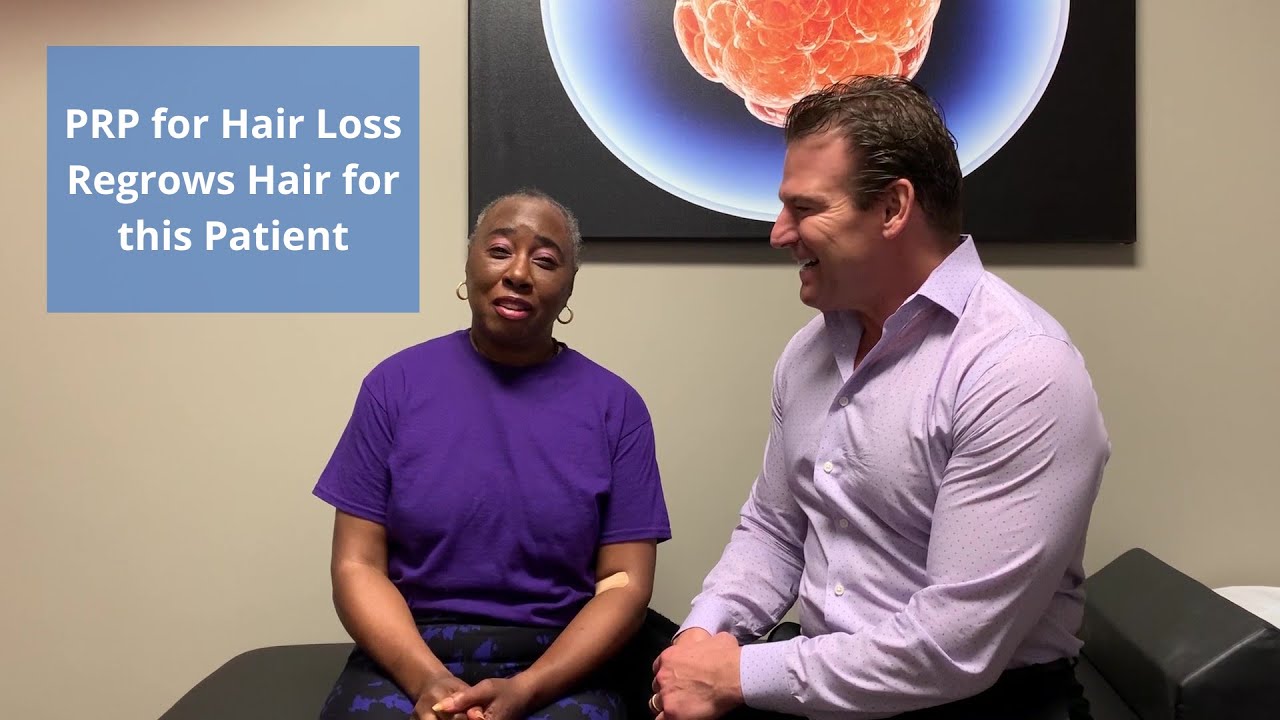 Mildred
When Mildred came to Renew Medical Centers, she was experiencing female pattern baldness. She decided to get PRP for Hair Loss treatment. In this video, she discusses her experience with treatment from Renew Medical Centers.